Thermography is a radiation-free

state-of- the-art

screening procedure

that captures heat images of

the breast and other parts of the body

to aid in the

early detection of breast cancer

or other health issues.

As a tumor grows, it develops a bigger

(and hotter) blood supply. An infrared camera picks this up as a heat signal and forms an image on a computer.

It is then easy to see the differences that are present from side to side and where tumor development may be taking place.

Changing the way Healthcare is delivered.


We now provide

RADIATION-FREE

Body Scans!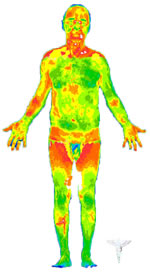 FULL BODY

SCREENINGS

AVAILABLE!

Call the office for your appointment!

(718) 358-1155

122-15 25th Road

Flushing, NY 11354